Ever wonder what happened to your old smartphone or broken computer? What about that ancient stereo or refrigerator?
It all becomes part of Europe's electronic waste or e-waste, which has great potential for recycling within a "circular economy", but poses dangers to human health and the environment if not well-handled.   
EU regulators need to introduce a mandatory certification scheme to make sure our e-waste is properly recycled. Read below to see why. 
Turning waste into resource
Valuable and critical metals are recovered from e-waste through high-quality treatment processes, which allow them to be reintroduced into our economy.
That's the vision that European policymakers presented in the Circular Economy Strategy, and which high tech refining companies like Umicore, Aurubis, Glencore and Boliden are putting into action.
A large number of metals can be recovered from those discarded phones and TVs, as long as state-of-the art processes are used to maximise efficiencies and protect the environment.
Unfortunately, only about a third of our e-waste is actually recycled through the proper channels, as documented last year in a landmark EU study on "Countering WEEE illegal trade" (CWIT).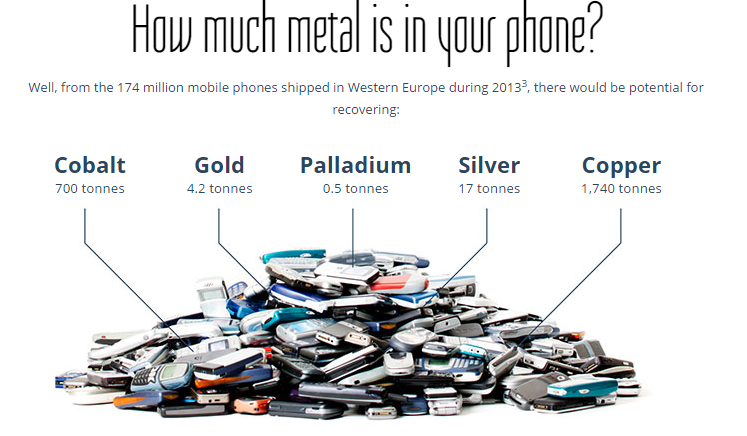 Exported illegally
Over 1.3 million tonnes of e-waste leave Europe each year as undocumented exports, the majority to Africa and Asia. Currently, there's no guarantee that those exports are treated efficiently, or with regard for human health and the environment.
In countries like Ghana, e-waste is too often dumped into illegal landfills or processed by impoverished 'backyard recyclers' with little safety equipment, posing a real danger to human health and the environment.
Watch Aljazeera's documentary, E-Waste Republic, and see for yourself what a typical Ghanaian scrapyard looks like. You'll also learn how e-waste enters developing countries illegally, in complete defiance of laws like the EU's Waste Shipment Regulation. 
Recycled incorrectly
Even in Europe, 2.2 million tonnes of collected e-waste gets recycled under non-compliant conditions. Incorrect processes may then be used, which are not designed to recover the smaller-volume metals. 
Scavenged
When Europe's high-quality recyclers do receive electronic waste, it has too often been cherry-picked by scavengers for the most valuable equipment. Overall, it's estimated that 750,000 tonnes of valuable parts never make it to the official collection points.
Discarded
Another 750,000 tonnes simply end-up in the waste bin, rather than official or unofficial collection channels. This puts it at risk of being landfilled or incinerated
Policymakers can do more to support responsible, high-quality recycling of e-waste. The Commission's Circular Economy proposals are a positive start, but they need strengthening.  
We think the best solution is a mandatory certification scheme covering all recyclers of EU e-waste, in or out of Europe.
Our e-waste would then only be treated by recycling facilities covering environment, health, governance and process efficiency standards. These standards already exist and are further being developed by EU industry and regulators.
We've already started meeting with MEPs and Member States to discuss how the Circular Economy waste legislation proposals and Action Plan could encourage this initiative. 
Download our policy paper to learn more about how a mandatory certification scheme could work.