Jocelyn Blériot is Executive Officer of Ellen MacArthur Foundation. The Ellen MacArthur Foundation is a global thought leader in accelerating the transition to a circular economy.
In 2015, we've seen your two new reports – Growth Within and A Toolkit for Policymakers - make a big splash in Brussels. Was it deliberate to align so closely with the European Commission's Circular Economy Package?
Well, this didn't come out of the blue. We've been involved with the Commission since 2012, when (then) Environmental Commissioner Janez Potočnik invited us to sit as experts in the European Commission's Resource Efficiency Platform.
So there's been a history to our involvement in Brussels, including an open letter sent to Jean-Claude Juncker, co-signed together with other organisations that were part of the European Resource Efficiency Platform, asking the new European Commission not to drop the Circular Economy Package.
We see ourselves as policy-relevant but not policy prescriptive. So we're not a lobbying or campaigning organisation, but have a strong interest in keeping the healthy debate going.
So yes of course it was important for us to have a timely intervention, but we didn't do it in order to twist anyone's arm – rather the continuation of the efforts we have had since 2012.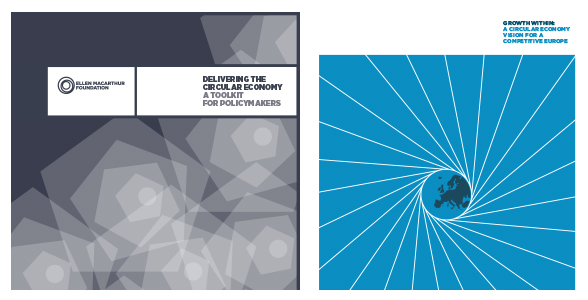 Your two new reports work together very well. Were they conceived as a joint project?
Well, I think the timing came about organically. The rationale between the two pieces was a growing interest in the wider implications of a circular economy.
With Growth Within, we looked to create what a Circular Economy could look like, rather than another piece of research highlighting the economic savings. We wanted to put something on the table that was visionary yet realistic.
At the same time, we were doing an increasing amount of work with our Danish partners. They were volunteering a lot of data and experience through our Government and Cities programme.
We thought a good next step would be to document all of this, and put a marker in the sand for other national policy makers, providing a toolkit manual to support their future initiatives.  
So yes, they go together very well.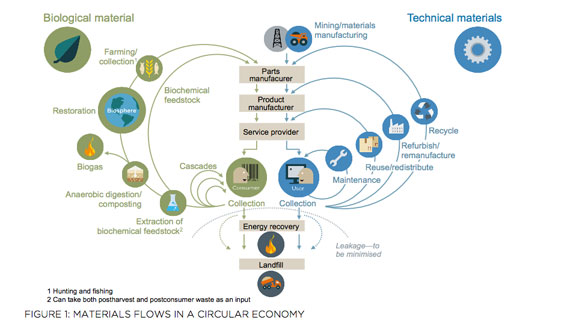 We know that in Europe there are Member States who are at different levels in the Circular Economy process. How has your Toolkit been received by other Member States?
Oh, there's an awful lot of interest. We have been contacted by regions in other Member States, to help them kick-start their own transition. So that's very encouraging.
But I think that everyone's in a state of expectation with regards to the package. Unlike last time around, there is less stakeholder engagement in the process.
So although we hope our arguments are convincing enough for the Commission to come up with something ambitious, it feels like people are holding their breath at the moment.
Your report has a strong recognition of the potential of new technologies, as long as they are directed towards the right goals. How do you think policy-makers and industry should work together on this?
Yes, I think there are multiple levels. The heated debate with some technology companies being banned from certain Member States. That's given a clear sign that something is happening, which won't go back into its box.
So the revolution is underway – but how will the existing frameworks adapt to it? In that case, it's plain to see that dialogue is essential. Although the new platforms are here to stay (Uber, Airbnb etc.), they do need to acknowledge the environment in which they operate.
Both sides have to win there, and highlighting that win-win situation helps to foster the dialogue.
In that direction, our report takes the technological revolution that's underway whatever happens, and shows how the impact can be doubled when guided by circular economy principles.
And you really go several steps forward with what you conceive of as a Circular Economy. It's more than just waste management. How far does the Circular Economy go?
Yes, it really is a systemic vision. The up-stream element is extremely important.
We've seen that the whole waste prevention/management agenda has been extremely strong in Brussels over the last 25 years. But it ended up as a mitigation strategy. Gradually we've realised that if you don't mess it up in the first place, you don't have to clear up.
A lot of costs can be avoided through adoption of the right upstream strategies. But it's a strong mindset to shift, and so it does take a while.
Having said that, I think the focus really has changed for a lot of companies, with circular economy ideas becoming more relevant.
We recognised that, and put the arguments on the table as loudly as we could for the debate to take a positive turn. It's an issue where policy-makers, businesses, educators and citizens all need to take part.   
Yes, that's especially relevant from our perspective as the metals industry. We know we're at the end of a value-chain, which demands collaboration to maximise our resources.  
You're right. I think the metals industry has seen itself as a one-time provider of stuff only. You guys also have a role to play as processors, and multi-lifecycle processors.
So what's the best way forward to unite value chains?
We have the example of a programme we run together with McKinsey and the World Economic Forum.
It looks at creating that dialogue along the Plastics industry value chain – from petrochemicals to recyclers. It's very complex, with a lot of sometimes diverging interests along the way.
Our instinct is that if you create a compelling vision, you can show there is multiple value to be extracted from different places along the value chain.
It's about proposing a credible way-out of the uncertain times we're living through.
You've spoken about different levels of government. How do you see the balance between EU, national and local levels?
Well I think it can go both ways. But it's pretty obvious that if the EU makes a strong statement in favour of the circular economy, then municipalities – just like SMEs – will be more confident about investing in that direction.
Of course, you can wait for companies and regions to put the initiatives in place themselves, but how can they know they will be aligned with future regulation if the direction has not been clearly stated?
The other tricky thing would be for the EU to be way too prescriptive – in which case you stifle innovation. We don't have all the answers when it comes to circular economy. It's also about trial and error.
The Danish government did quite well, offering temporary derogations to pieces of legislation. Maybe that's the type of experimental approach that could be taken.
But if the EU does provide the right system conditions, and states its longer-term ambition to facilitate the circular economy transition, then movement on the ground will be quicker and stronger.
So to wrap up, what's on the horizon for Ellen MacArthur Foundation in 2016, and what are the key challenges you still see?
As an organisation, we'll be expanding our knowledge base and teams. We're launching a C100 Brazilian satellite this week. That's quite encouraging – we see a strong momentum from those regions.
There also themes we want to invest research into, such as bio-economy, and the circular economy potential in specific sectors.  Then strengthening our relationship with academic institutions, and bringing more governments on board.
In terms of threats, I see a danger that because it's become so pervasive, circular economy can just be seen as "Recycling 2.0". That's something we work really hard to prevent.
Circular Economy is a topic in itself, which is much more wide-ranging than only looking at efficiency tactics, simply rebranded with a snazzy slogan.
Thank you!